Welcome to our Irish Setter Website !
You can find more infomation about our kennel and our dogs by browsing through the menu on the left.

Have fun!

NEWS - NEWS -NEWS:
* 27 mei 2023 -- PUPPIES born from Countess v.d. Grasbroekerhof X Xem v.d Grasbroekerhof!!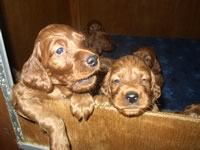 for info Click here
* 28 April 2016 -- PUPPIES born from Magic Haeven X O'Conner von Röhlitzbach!!


* Show Wijchen, 19 December 2009: Glamour Girl van de Grasbroekerhof became definitive Dutch Champion and also in the competition for Irish Setter of the year 2009 she became Best Bitch of the year!!. With these achievements she followed her mother Cleverly in her foot steps. Gladdie we are very proud !
NEW - Update Our dogs: Lancelot and Marvellous red
NEW - Gentleman, Glamour Champion and Miss Sarah Best pup- Uedem